2006 Game of the Year
Game of the Year:
Hex-a-hop
Picking the game of the year was very easy this year. Hex-a-hop is perfect. Simple rules, nice graphics, intuitive controls, gradual learning curve, 100 wonderful levels. And it is free! Playing through the Hex-a-hop was the best gaming of the year for me. I want more; another set of 100 level, please!
Runner-Up:
Armadillo Run
The realism of the simulation in Armadillo Run is top notch. I feel that if I were to actually make one of these contraptions, it would behave just like in the game. Look at some of these
Spectator Levels
where people have the game to model the real world. Oh, there is a great game lurking in this physics simulation. Be sure to check out the
fan made levels
.
Honorable Mention:
Puck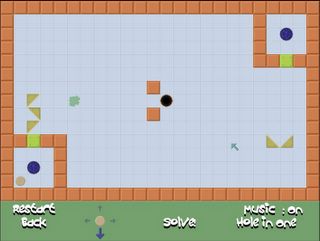 Puck is a simple fun puzzler with an original idea. It has 45 well crafted levels. Free. What more could you want?
Honorable Mention:
Buchstabensalat
I do not know if this game came out in 2006 or not, but I first starting playing it this year and it has become a bit of an obsession. I can't really explain why, but whenever I have five minutes to kill, I start up Buchstabensalat. I have not played a game of freecell since getting it.