Rocks'n'Diamonds
Name: Rocks'n'Diamonds
Author: Artsoft Entertainment
License: GNU Public License
Website:
http://www.artsoft.org/rocksndiamonds/
While I am not a huge fan of
BoulderDash
like games, I do admire Rocks'n'Diamonds a great deal. It is the ultimate BoulderDash collection and a surprisingly flexible game engine. What I like most about it is its large fan base. Using the level editor, Rocks'n'Diamonds fans have created some very interesting levels.
In traditional BoulderDash, you control Rockford. Why do these sort of games always name the little sprite? You have to run Rockford around and gather enough gems (emeralds, diamonds, and crystals) and then make your way to an exit in order to complete a level. To gain access to the gems, you may have to gather and use keys or find some dynamite to blow up walls. All the while, you have to avoid clearing the ground from underneath a boulder and having it fall on your head. On many levels, there are also monsters which can kill you.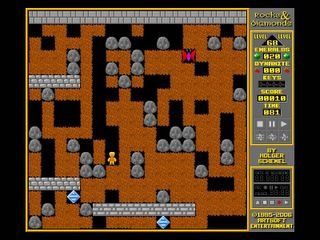 Rocks'n'Diamonds implements traditional BoulderDash perfectly. It comes with two tutorial level sets containing a combined 66 levels which introduce the many game elements: acid, amoeba, balloons, butterflies, bombs, etc. There are a total of 184 items listed in the
docs\elements
directory. Then there are 4 levels sets included in the default download containing a total of 363 levels. These include the original BoulderDash levels. Then there are level sets containing levels from the BoulderDash clones
Emerald Mine
and
Supaplex
. Finally, there is a level set containing
Sokoban
levels. I do not know how closely these level sets match those in the corresponding original games, but they form a fine challenge. I personally liked the Supaplex levels the best.
There is much about Rocks'n'Diamonds which I do not like. You can cut and paste all of the complaints I made about
SubTerra
here. Many levels require frantic finger work and careful timing. This just is not my thing. Next, there are way too many game elements. Keeping track of how they interact is difficult. And, on many levels, you cannot see the entire board at once. This means that there is often a bit of exploring to do, and you have to repeat a level sometimes when you realize you missed something.
Despite all of these complaints, you should play Rocks'n'Diamonds because of the flexibility of the game's engine and the creativity of the level designers out there. There are more than 10,000 user-made levels. There is also alternative audio and artwork available. You can start by going to
Artsoft's download page
. If that is not enough, more levels are available at
Zomis Productions
. They group levels by category and allows users to rate levels allowing you to find good levels which suit your tastes. New levels are posted almost every week.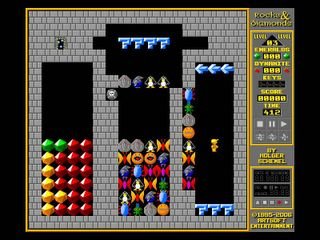 There are some really odd levels out there. The one shown above is an implementation of
mastermind
! Another level allows you to play the old arcade game
defender
. This is what amazes me about Rocks'n'Diamonds. These sort of levels show incredible creativity. I have really enjoyed going through the odd levels.
I have one last thing. The menus are a little confusing, but be sure to run through all of the options. You can turn off of the time limit and give yourself access to any level. I would suggest against using fullscreen mode. It does not do well when you minimize and restore when in fullscreen mode.